Slender mat provides comfort and reduces fatigue.
Grease Resistant Terracotta Red for oil/greasy kitchen applications.
Raised surface edges provide safe footing and slip resistance.
Safety bevel for smooth traffic and easy cart access.
Cleaning is a breeze due to light weight.
Moulded Ramping for non-trip safety.
Terracotta Red NBR blends for greasy areas.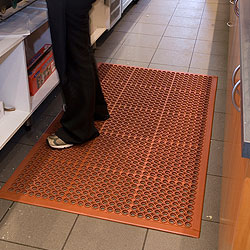 Cleaning: Wash and dry.
| | | | | |
| --- | --- | --- | --- | --- |
| Part No. | Description | Size (mm) | Colour | Material |
| SGVIP60x90 | VIP Mat | 600 x 900 x 13 | Black | NR |
| SGVIPT | VIP Mat | 1520 x 910 x 13 | Terracotta | NR:NBR 75:25 |
| SGVIPB | VIP Mat | 1520 x 910 x 13 | Black | NR |
VIP TOPDEC ECO

| | | | | |
| --- | --- | --- | --- | --- |
| Part No. | Description | Size (mm) | Colour | Material |
| SGVIPECO | VIP Mat | 1520 x 910 x 10 | Black | NR |
| SGVIPECOT | VIP Mat | 1520 x 910 x 10 | Terracotta | NR:NBR 75:25 |