Densely textured surface guards against slips and injuries.
Excellent comfort and fatigue relief from long standing.
Reduces stress on spinal column and joints.
Bubble surface stimulates blood circulation.
Rolls quickly for easy cleaning.
Larger mat comes in single, ends and centres.
Protects floors, dropped utensils and tools.
Yellow border available for added visibility and safety.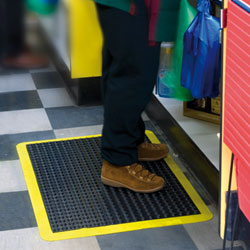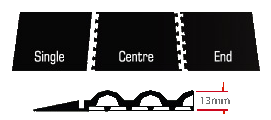 Cleaning: Wash and dry or mop.
| | | | | |
| --- | --- | --- | --- | --- |
| Part No. | Description | Size (mm) | Colour | Material |
| Dome (Black) | | | | |
| SGDM1 | Single | 900 x 600 x 13 | Black | NR |
| SGDM2 | Single | 900 x 1200 x 13 | Black | NR |
| SGDM2E | End | 900 x 1200 x 13 | Black | NR |
| SGDM2C | Centre | 900 x 1200 x 13 | Black | NR |
| Dome (Yellow Edge) | | | | |
| SGDM1Y | Single | 900 x 600 x 13 | Black (Yellow Edge) | NR |
| SGDM2Y | Single | 900 x 1200 x 13 | Black (Yellow Edge) | NR |
| SGDM2EY | End | 900 x 1200 x 13 | Black (Yellow Edge) | NR |
| SGDM2CY | Centre | 900 x 1200 x 13 | Black (Yellow Edge) | NR |
| Dome ECO | | | | |
| SGDMECO1 | DOME MAT ECO SMALL | 900 x 600 x 13 | Black | NR |
| SGDMECO2 | DOME MAT ECO MEDIUM | 900 x 1200 x 13 | Black | NR |